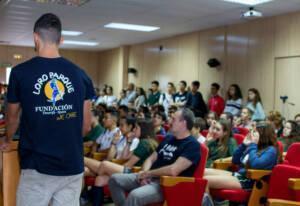 The Loro Parque Foundation, a non-profit organisation whose objectives include the conservation of endangered species and their habitats, the promotion of scientific research aimed at the conservation of biodiversity and education and awareness of threats affecting the planet, sponsors the Awards of the Faculty of Sciences of the University of La Laguna to the best End of Grade Work (TFG) presented during the academic year 2017-18, with the aim of stimulating educational excellence and encouraging efforts related to the conservation of both terrestrial and marine biodiversity, as well as protection and environmental sustainability.
Applications must be submitted to the Secretary of the Faculty of Sciences in writing or by e-mail addressed to the Secretary of the Faculty of Sciences ([email protected]), expressing interest in participating in this competition, indicating the name of the author of the TFG, as well its title. The deadline for submission will be Monday 29 October, 2018 at 2pm.
Two groups of four prizes will be awarded.  On the one hand, the best TFGs presented in Biology  will be awarded, and on the other in the degrees of Environmental Sciences, Chemistry, Physics and Mathematics.  In all cases, the prize amounts will be as follows: a first prize of €1,200, a second prize of €800, a third prize of €600 and a fourth prize of €400. The awards will be presented at a public event as part of the activities organised at the Faculty of Science to celebrate the feast of its patron.
In the case of the Biology awards, any of those registered in the academic year 2017-2018 will be eligible. In the case of the Environmental Sciences, Chemistry, Physics and Mathematics, to be eligible for the competition the papers presented should deal with the following themes: conservation and biodiversity of the terrestrial and marine environment; evaluation and management of the natural environment; environmental sustainability, environmental protection and environmental education; and water and waste management.
Regulations: https://drive.google.com/file/d/1vqYUQyai7p-MmTtkPAEBC01yR5gw2HYy/view