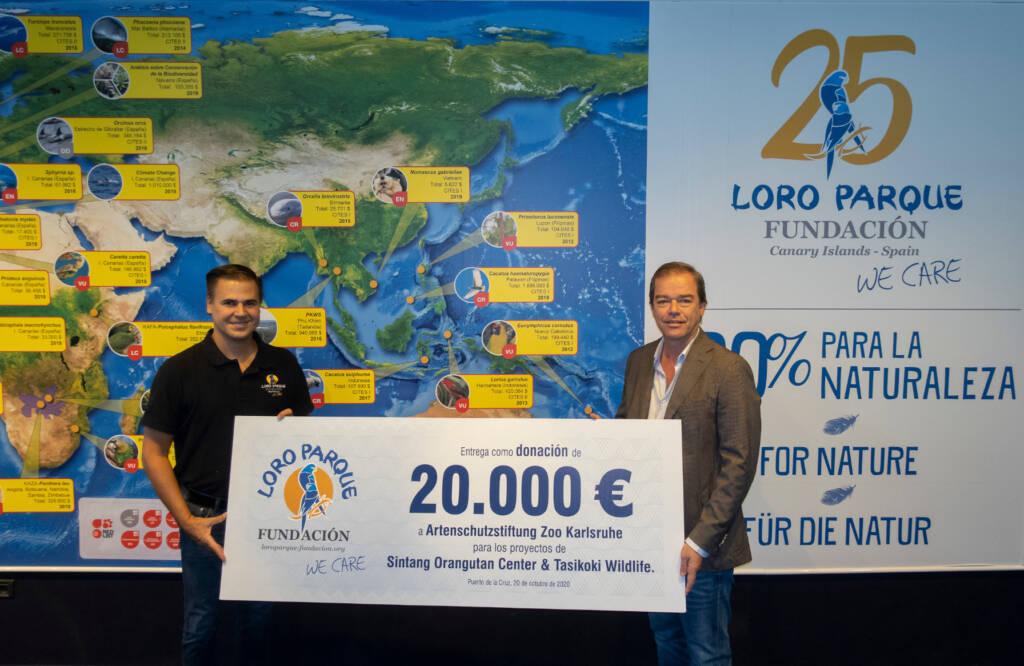 Loro Parque Fundación has made a donation of 20,000 euros to Karlsruhe Zoo, in Germany, for the conservation of orangutans in Indonesia. The German zoological institution will distribute it, simultaneously, between two non-profit associations that dedicate their efforts to the protection of these animals, which are in critical danger of extinction in nature.
Thus, the donation will contribute to the rescue, rehabilitation and reintroduction centres for hundreds of orangutans that have been affected by the pandemic, deforestation, hunting and illegal trade, and will also be invested in the education of local communities, in line with the pillars and fundamental principles of the Loro Parque Fundación.
With this gesture, the Foundation reinforces its commitment to the protection of endangered species in the wild, an objective it has been working towards since its creation in 1994. In fact, thanks to the financing by Loro Parque of its operational costs, 100% of the donations received go directly to conservation and/or education projects in situ and ex situ.
Its numbers and results speak for themselves: more than 21.5 million US dollars invested in almost 200 projects on the five continents, and 10 species of parrots directly saved from extinction.
Furthermore, in the current circumstances and immersed in the world crisis caused by the COVID-19, Loro Parque continues to finance the Foundation without any kind of public aid, making it possible to maintain the commitments to the conservation and protection of species made for 2020.