Loro Parque continues to obtain magnificent results with its breeding programs, and on this occasion, Loro Parque Fundación (LPF), as the only zoological center in Europe, has managed to reproduce the Lear's Macaw (Anodorhynchus leari), an endangered species that lives in the north of Brazil and that currently is exhibited in the Park.
Since 2006, when the Brazilian government first sent a pair of Lear Macaws for reproduction to Loro Parque, LPF has obtained 30 individuals born in Tenerife; nine individuals have been returned to Brazil already.
The acclimatization of the parrots has been fundamental in order to achieve such a successful breeding. The imitation of their natural habitat, the good climate and the food from the licuri palm tree – the same they feed on in Brazil – have been the keys for such good results.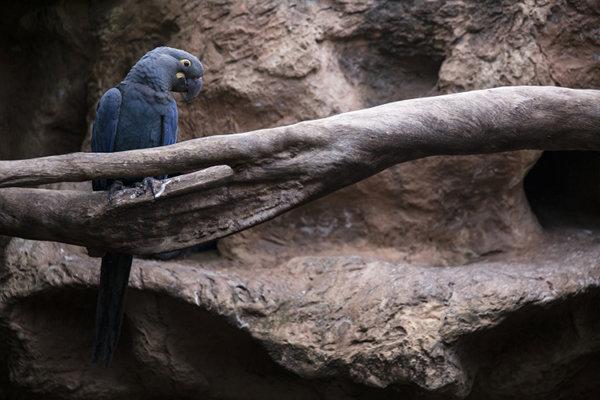 Lear macaws suffer illegal trade with the capture of its young, and when grown up, farmers chase after them to protect their corn. Their habitat is increasingly degraded by the use of land for cattle, and also by the indiscriminate collection of leaves and fruits of the licuri palm.
The scientific director of LPF, Rafael Zamora, explains the process of adaptation and the creation of a habitat most similar to its natural environment: "When the first pair was going to arrive, we took a photo of the cliff where they lived in the area of ​​Brazil so that our team of craft workers could recreate an imitation as close as possible to these rocks; We have managed to recreate their natural habitat here at Loro Parque."
Loro Parque Foundation has managed the recovery of the species and change the category of protection from 'critically endangered' to 'threatened animal'; a very important step in conservation. Up to this date, nearly €500,000 have been invested in the protection of Lear's free-ranging macaw, contributing to the definition of priority actions, previously studying its geographic movements and food resources, and
sensitization of local populations on the importance of maintaining the licuri palm.
The objective remains to situate Lear's macaw as an unmanaged species, reducing its threats and recovering the wild population, in addition to protect this palm tree, essential for the long-term recovery of the species.