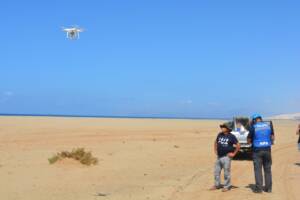 The environmental project 'Chain to monitor climate change, ocean acidification and underwater noise in the Canaries and its relationship with marine biodiversity and ecosystems' CanBIO, co-financed by Loro Parque and the Canary Islands Government and promoted by The Loro Parque Foundation, continues to advance through its different subprojects.  In this case, in Fuerteventura, it is doing so through the NGO Avanfuer, which is monitoring turtle tracks in coordination with the Department of the Environment, Combating Climate Change, Circular Economy and the R+D+I of the Fuerteventura Island Council, using a drone.  In addition, as part of their activity, they locate and dispose of plastic garbage from Cofete beach.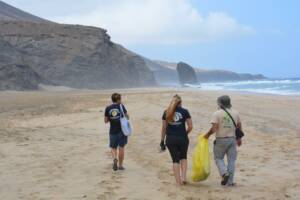 Dr. Javier Almunia, the Director of The Loro Parque Foundation, wanted to highlight the importance of this project "at a time when climate change means that turtles need beaches at higher latitudes for their reproduction".  Furthermore "the implementation of a new loggerhead turtle breeding colony on Fuerteventura as a result of the reintroduction project would mean the recovery of a historic area for the species" he added.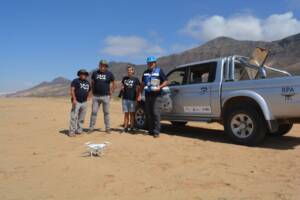 In total, two million euros will be invested via CanBio over four years to study climate change in the sea and ocean acidification and its effects on marine biodiversity in the Canary Islands and Macaronesia.  Different research groups from the Universities of La Laguna and Las Palmas de Gran Canaria are participating in the project, in addition to the Avanfuer and ElasmoCan collectives.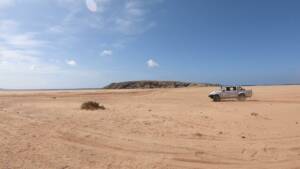 Turtle tracking at Cofete beach
The objective of this tracking of the loggerhead turtles (Caretta caretta) and identifying any nests in Cofete is to confirm if the specimens released thirteen years ago in this location return to spawn.
Since the ambitious project to establish a loggerhead turtle breeding colony on Fuerteventura began, it has been estimated that around 1,000 loggerhead turtles have been released into the sea.  The last five had a GPS device incorporated into their shell to follow their evolution and their marine routes.
Now, some of these specimens are expected to return to their birthplace for spawning, so Avanfuer volunteers and technicians regularly patrol the 14 kilometres of Cofete beach assisted by a drone in search of turtle tracks.  If nests are identified during the search, a nursery and protection measures will be activated in conjunction with the Fuerteventura Island Council.