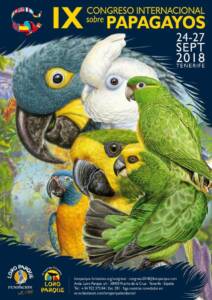 Since the first edition was held in 1986, the Loro Parque Foundation Parrot Congress brings together a multitude of scientists, biologists and conservation and veterinary medicine professionals in general, as well as students from different parts of the world. As usual, the line-up of speakers in this edition also brings together experts from the most diverse corners of the planet.
The Congress will also feature an original 'wining & dining' leisure programme that will allow attendees to visit emblematic places on the island while enjoying different parallel activities. In addition, for the first time this year, an excursion has been organised to Gran Canaria to visit Poema del Mar, where participants will enjoy the impressive marine life in an incomparable setting.
Also in this edition, and in response to an unprecedented demand, intensive workshops will be given during the three days following the Congress, in which different experts will offer direct training in different fields linked to the world of conservation.
These types of activities generate a very positive impact for the Islands, because they attract a tourism that appreciates nature and seeks to know the different attractions of the archipelago, extending their holidays to do so. September is also one of the most spectacular months in the Canary Islands, with long sunny days, dreamy sunsets and beaches that invite long walks. The IX Parrot Congress will undoubtedly be a unique opportunity to share, learn and enjoy in an unequalled environment.
Those interested in applying for press passes can now do so by sending an email to [email protected].