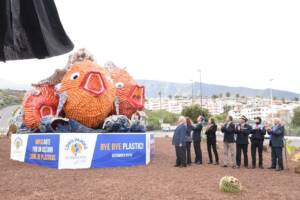 The Loro Parque Foundation has, this Wednesday December 4, presented a new sculpture made from recycled objects that demonstrates the serious problem that plastic generates in the environment.  The inauguration took place on the roundabout at the crossroads of the TF-316 with the Carretera de las Dehesas, in the municipality of Los Realejos.
The event was attended by the Mayors of Los Realejos and Puerto de La Cruz, Manuel Domínguez González and Marcos González Mesa and the Vice-President of The Loro Parque Company and President of Loro Parque Foundation, Christoph Kiessling.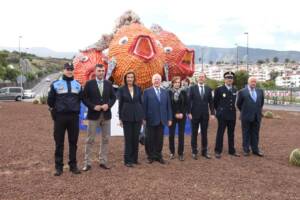 This second artistic representation also forms part of the numerous actions against single-use plastic carried out in all the facilities of the Loro Parque Company.  Thanks to the implementation of their strategies, since the beginning of 2018, the use of over 30 tons of this harmful material has been eliminated.
In this regard, for the manufacture of this raising- awareness art, the creator of these sculptures, Paolo Bonano, was inspired by the Las Palmas de Gran Canaria artist Néstor Martín-Fernández de la Torre.  For the sculpture he has mostly used cans, bottles and plastic lids.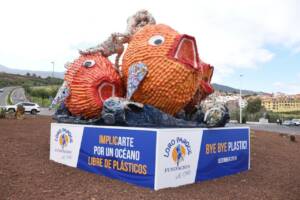 As part of the same project 'Bye Bye Plastic', The Loro Parque Foundation and the University of La Laguna just inaugurated, on November 28, the first sculpture with the same objectives: to reinforce the commitment to promote the search for solutions to keep our planet cleaner and to make citizens aware of the problems faced by the oceans and the different species that inhabit them, placing special emphasis on the effects of marine waste.
With all this, The Loro Parque Foundation emphasises, once again, that the accumulation of plastics in the oceans affects marine biodiversity in a terrible way, because according to United Nations figures "13,000,000 tons of plastic seep into the ocean each year, which causes, amongst other damage, the death of 100 000 marine species each year".
What's more, it's estimated that by 2050 there will be more plastic in the ocean than fish.  All this makes the role of wildlife conservation centres particularly relevant in protecting species for future generations.