Loro Parque Fundación has won this year's prestigious World Travel Leaders Award 2015, awarded by the World Travel Market, the largest tourism fair in Europe, held in London. This award recognizes the continued efforts of Loro Parque Fundación on issues of biodiversity conservation and protection of natural habitats, research and promotion of sustainable development.
At the WTM awards ceremony held on 3rd November, Hosteltur director, Manuel Molina, presented this award to Christoph Kiessling, vice-president of Loro Parque and trustee of Loro Parque Fundación.
For over 20 years, Loro Parque Fundación has dedicated its efforts to the cause of protecting species that are most endangered, operating internationally through education, applied research, responsible breeding programs and conservation activities based in the community using certain species as ambassadors for nature.
Loro Parque, the Number 1 Zoo in Europe and second in the world, according to Trip Advisor, supports Loro Parque Fundación by covering 100% of the administrative costs of the foundation, allowing all donations to go directly to the cause of wildlife conservation and the promotion of sustainable development through the implementation of projects in all continents. So far, there have been 96 projects with total investment of US$ 15 million.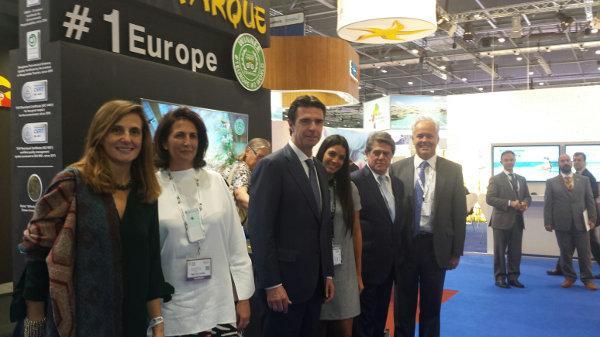 During this week, both Loro Parque and Siam Park, as well as the Hotel Botánico and Brunelli's restaurant have been present in the World Travel Market, with a stand designed specifically for the fair in order to present the latest developments of companies. In turn, the opportunity has been taken to present the latest exhibition of Loro Parque, the red panda exhibit opened this week. These lovely and charismatic animals came to the park from the UK and have received into a new facility designed and developed specifically to recreate the environment and the natural habitat of these enchanting animals.
Another new, recently opened exhibition in Loro Parque is Animal Embassy, an emblematic educational zone specially developed with a firm commitment to the defence of nature and the development of responsible tourism. This exhibition is where Loro Parque and the Loro Parque Foundation unite to alert visitors to the destruction of nature and species extinction.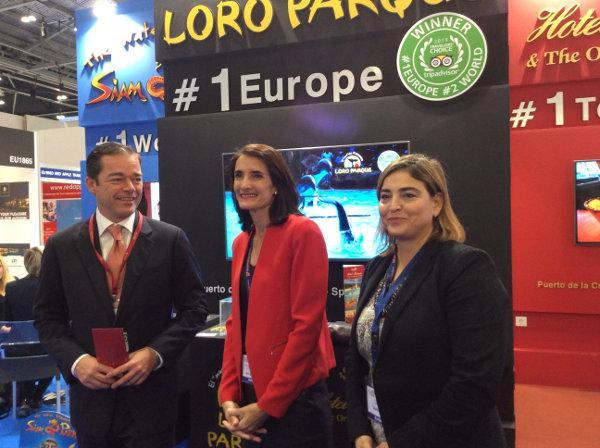 The stand of Loro Parque in London was visited, among others, by the Minister of Industry, Energy and Tourism, José Manuel Soria; the Chief of Promotur Turismo de Canarias, Maria Mendez; the Minister of Tourism, Culture and Sports of the Canarian Government, Maria Teresa Lorenzo, the President of the Cabildo of Tenerife, Carlos Alonso, and the Minister of Tourism of the Cabildo de Tenerife, Alberto Bernabé.